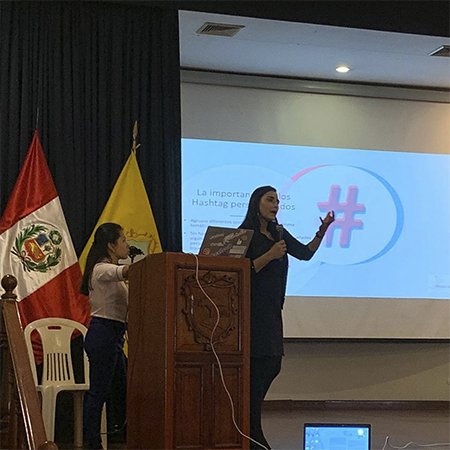 Sacrifice a few years doing what others are unwilling to do, and you will enjoy the rest of your life as others never can. Mark Hughes
Master's in Digital Business
Instituto Internacional Español de Marketing Digital – IIEMD
Spain  (2014-2018) 
Virtual modality
Master's in Marketing
University of Palermo
Buenos Aires – Argentina (2003-2007)
Master's Degree in Business Management
University of Palermo
Buenos Aires – Argentina (2003-2007)
Degree in Business Administration
Sergio Arboleda University
Bogotá – Colombia (1996-2001)
Digital Marketing
I have had different stages in my professional development. When I finished my university degree in 2001, I had the opportunity to work in a multinational company that trained me in the United States to apply the company's E-business strategies in Colombia. This experience helped me to develop my thesis called (E-business as a marketing strategy applied to SMEs).
During the following years I worked in countries like the United States and Argentina, in companies developing the digital identity and image of the company.
Arriving in Colombia in 2010, I decided to create my own company, at the beginning I implemented traditional marketing strategies, stationery, word of mouth and referrals, fairs, among others, without achieving my goal, I invested a lot without return on investment, one of the anecdote was the investment of 1000 flyers, I distributed them to generate sales, only one person contacted me.
After implementing traditional marketing, I took a second step by returning to the digital area, learning the new Digital Marketing tools and their applications, I created my first website in WordPress with the objective of making my company known.
Little by little I felt more confident, learning and updating myself in the available tools. One of the stages that was difficult to get familiar with was the use of Cpanel, I made mistakes, but as someone says "practice makes perfect". Each time I learned more and more.
I was certified in Google Analytics, AdWords and Digital marketing.
At the beginning of 2014 I started my Master in Digital Business learning about the different areas of digital marketing and applying each strategy to my projects, sometimes I helped people with their businesses, to learn a particular topic well the best opportunity is to teach others. I took the decision to create my own digital marketing agency, VSJ Digital, accompanying different businesses, offering workshops and empowering them in the use of digital marketing tools.
Business connections
After working with VSJ Digital helping businesses, I discovered that most businesses at the beginning have a common problem, to become visible.
Little Connexions was born from this problem, as a solution for businesses, Little Connexions is a platform that offers Micro Websites for businesses, providing a space of connectivity between businesses and customers from different places having the possibility to expand their visibility and network of contacts.
Little Connexions offers support services and advice to businesses, providing them with an alternative with a vision of growth using different means to connect with different people or entities for their benefit.
I am always learning from people, situations, courses and everywhere I go.
Every moment is an opportunity to grow.
My mind is always in constant learning