Passionate about digital marketing, with life experience in the United States, Argentina, Peru and Colombia, currently living in Lisbon, during the last years I have created business connection platforms, strengthened the SEO strategy of companies, worked with Digital Marketing tools and supported businesses.
I am curious, pragmatic, creative, collaborative, disciplined, committed, committed, collaborative and perseverant. I adapt easily to change and am willing to take on new challenges.
In almost three years of creating and launching the business directory "Little Connexions", I achieved third place in the "Latam Digital 2018" Awards in the "Digital Entrepreneurship" category.
My Mission
Empower businesses in the strategies and implementation of Digital Marketing tools.
My Vision
To be an ally for businesses and professionals, providing support in the implementation of Digital strategies so that they can apply it to their businesses, achieving more visibility in digital and traditional channels, for their growth.
CONSTANT LEARNING AND UPDATING
Every day you learn, the mind is a sponge if you are motivated in what you work on.
I live in a constant mastery, every time I attend a course, a meeting or a conference my mind connects concepts, applying them in my professional and personal path.
Thanks to the knowledge and experience I have had during the last years I have the opportunity to transmit it to different professionals, every day is an opportunity to learn and transmit knowledge, remember that your experience is being useful to someone else, always share it.
In my last year of University (2000) I did my internship at Nortel Networks, a Canadian multinational, being part of the team that established the e-Business strategies for the region (Colombia, Venezuela and Mexico), it was an excellent opportunity to combine my thesis work (E-business as a Marketing strategy applied to SMEs), with my internship work.
In mid-2001 I moved to the United States, where I was for almost two years, supporting the marketing strategy of an American company, developing their brand and creating their platform in Dreamweaver.
At the end of 2002, I travelled to Buenos Aires (Argentina), where I stayed for 6 years, studied two Masters, worked in a Railway company, developing their corporate image and creating content for the sector's magazines.
In the second semester of 2007 I moved to Lima (Peru), it was an excellent opportunity that lasted 4 years, leaving technology aside and concentrating on the textile sector.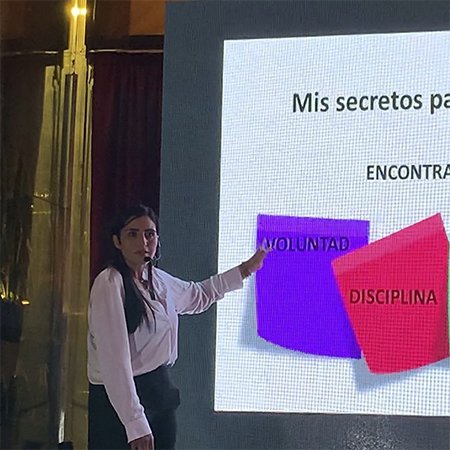 Entrepreneur
Upon returning to Colombia in December 2010, I decided to start my journey as an entrepreneur, a completely new path, in a country where I lived years ago, arriving as an expatriate.
I started with the last thing I had learned, the textile sector, creating two brands, one focused on maternity and children, the other focused on women.
With these two brands I started to dabble in marketing again, as I became more confident in the market, at the beginning I worked with traditional advertising (fairs, flyers, recommendations, moms groups, among other traditional strategies), I had to take up the digital part again.
In this period I was walking again for technology, every time I was motivated to keep learning, every day I was doing free courses from social media management to building web platforms with new tools, after acquiring the basic knowledge, I attended classroom courses and took confidence in the sector, today I have created a marketing agency for business and a platform that creates a point of connectivity between B2B and B2C working as a business directory and creating a network of contacts globally.